Home
¤
Calendar
¤
Links
¤
Archive
¤
Print
Blackie Farrell
September 09, 2018 ~ 8:00 pm - 10:00 pm
Cost:
$20.00
Preorder tickets by sending an
email
or calling 603.767.3305
Or purchase online (a Paypal account is not required)
Its a very warm welcome back to one of our favorite performers and indeed, one of our favorite people, Blackie Farrell!
Those of you who were here for Blackie's show last year will remember what a brilliant performer and storyteller he is. We can't wait to hear more from him!
Blackie Farrell was born in 1948 in Oakland, California, where the seeds of music and writing were planted early. Radio was huge then, and what Blackie calls "the best music ever made" was busting out of house windows and car radios – real deal country, blues and R&B. "We didn't own a tv, so you either read, listened to music, or went outside and cruised the town." Blackie was drawn to, and spent most of his early youth hanging out in front of, the many music clubs that were sprinkled throughout the community. Relentlessly trying t
o sneak in, and often times literally being thrown out, the young Blackie was eventually rewarded for his tenacity. One night a tall doorman in a long trench coat was fed up with shooing him away and told Blackie to hide under his coat. He walked him through the door, across the dance floor, and into the back room, where he let him hang out and listen to the music. That turned out to be life-changing, for it was in those back rooms that Blackie met and hung out with some very cool people like Big Mama Thornton, K.C. Douglas, and Lightnin' Hopkins. In fact, it was Lightnin' Hopkins who took the time to show Blackie an E chord on the guitar and how to make a blues run off it. Then he got to see Marty Robbins live singing "Big Iron" and the hook was set; he knew he wanted to be a songwriter.

"My first guitar was a Harmony sunburst plywood arch top. I bought it from "Monkey Wards" with paper route money. No case, just a braided string for a strap. I pedaled home with it on my back, and when a pretty girl on a corner smiled at me, I remember thinkin', "hmmmm – this could work."

Through the years Blackie formed and played in several local bands, and eventually began trying to get his songs heard and recorded by other artists. He tried the Hollywood scene and cut his first demo there. Realizing his stuff wasn't quite "ready for prime time," he returned home and continued to hone his craft. In 1969 he met Bill Kirchen who became a life-long friend and stagemate. At the time, Kirchen was the lead guitarist and vocalist for Commander Cody and His Lost Planet Airmen. Blackie's gritty and heart-rending tales were well-suited to the innovative sound of the Cody band, who infused their rock-n-roll roots with hard core country and western swing, all of them paving the early highways and byways of what was eventually called the Americana movement.

The first song of Blackie's ever recorded was "Mama Hated Diesels" cut by the Cody band on their "Cold Steel Hot Licks" LP, and as the A side of a single that made the country charts with a bullet. With Bill Kirchen singing the lead vocal, it stands today as one of the loneliest country songs ever written in the history of classic weepers. Bill introduced Blackie to Leroy Preston, songwriter and drummer for Asleep at the Wheel, a talented western swing band who had just migrated to California from West Virginia. Blackie and Leroy became fast friends and song-writing collaborators, which led to the band recording several of Blackie's songs.

To date, Blackie's best known and most recorded piece is his achingly beautiful western border ballad "Sonora's Death Row" (

https://en.wikipedia.org/

wiki/Sonora%27s_Death_Row), first recorded by Bill Kirchen with the Moonlighters in 1977 and later by Leo Kottke, Tom Russell, Robert Earl Keen, Michael Martin Murphy, and Dave Alvin, to name a few. It tells the tragic tale of a drunken cowboy whose life is ruined by a "nightmare of mescal" and who laments over such universal themes as regret, confusion and anger. Tom Russell called it "the best cowboy twist of fate song ever written," one that "turned my head around and deeply influenced my writing." Robert Earl Keen once called Blackie the "Louis L'Amour of songwriters."

Blackie takes humble pride in the fact that other songwriters who he considers some of the best have recorded his songs. Other than background vocals on some early Cody albums produced by Hoyt Axton, Blackie has only one recording available to date. On Bill Kirchen's "Word to the Wise cd, on the Proper Records UK Label, he recorded "Open Range," a song co-written with his old sidekick Leroy Preston.

Blackie has finally released his first solo album, recorded at Mark Hallman's Congress House Studio in Austin, Texas. Produced by pals Gurf Morlix and Bill Kirchen, and engineered by Andre Moran, it features Bill playing Telecaster and baritone Telecaster, Gurf on bass guitar, electric guitar, and pedal steel guitar, and Rick Richards on drums. Special guests Nick Connolly on B3 organ and piano and Yvette Landry on button accordion round out the roster.

All but one of the songs on this debut album have been recorded by other artists: Commander Cody, Asleep at the Wheel, Bill Kirchen, and at least 19 covers of Sonora's Death Row. The new song "Jim Donny's Gold" is a story about prospecting for gold during the California gold rush. True to his style, Blackie transports the listener to that place and time and powerfully weaves all the emotions through the words and melody.

The album is a project that's been in the works for a long time. As Gurf said, "Only forty years of pre-production."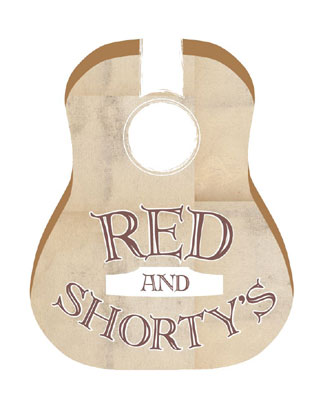 redandshortys@gmail.com

4 Paul Street, Dover NH 03820


<< Sep 2018 >>
1
2
3
4
5
6
7
8
9
10
11
12
13
14
15
16
17
18
19
20
21
22
23
24
25
26
27
28
29
30